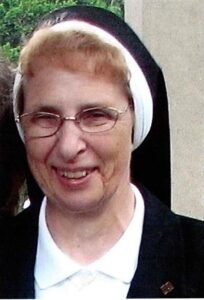 Patiently waiting for the Lord Jesus to call her home, Sister Josetta (Angela) Kriss quietly fell asleep in the Lord on Saturday morning, November 18, 2023, at Mt. Macrina Manor. She awoke from her life's journey to be welcomed to her new home in the Kingdom.
Sister Josetta was born in Canonsburg, PA, the daughter of the late Charles and Susan (Hoady) Kriss. She entered the community from St. Michael's Byzantine Catholic Church in Canonsburg, PA on September 15, 1956, and made her Final Profession of Vows on August 26, 1962.
From 1960 to 1995, Sister Josetta's years of ministry were devoted to educating children both as a teacher and principal in the schools of the Archeparchy and of the Eparchies of Passaic and Parma. In 1994, she was elected to the Provincial Council, and in 1996, she was appointed the Province Treasurer.
Upon completion of her term of office, Sister Josetta was reappointed as Province Treasurer, a position
she held until her appointment as manager of the Byzantine Seminary Press. Sister Josetta returned to the monastery in 2010 willingly helping at the Gift Shop or in the Card Shop Ministry. Due to a decline in health, Sister Josetta spent several peaceful years at the Manor. Her gentle spirit and gracious manner marked her time at the Manor to all who cared for her or came to visit.
In her personal file, Sister Josetta noted that she simply wanted to be remembered as a Sister of St. Basil. This simple wish encompasses all Sister Josetta was and all she held dear. Among the gifts she possessed and used as a Sister of St. Basil was her love of music. Sister cherished her heritage of liturgical music from her father who was a cantor for many years.  This became an important aspect of her teaching ministry. In several schools, Sister Josetta established a children's choir to sing at the Divine Liturgy and other events. In the monastery, she also took her turn as Cantor for the liturgical services.
At her Golden Jubilee celebration, Sister Josetta expressed feelings of being truly blessed for her years as a Sister of St. Basil.  She was quick to express her warmest gratitude and prayers for all those who have loved and supported her along the way.
Sister Josetta was preceded in death by her parents, her sister Carol, and an infant sister Anna Helen. In addition to the members of her community, she is survived by her devoted sister Margaret V. Popp and cousins Donna Szott and Robert Kriss.
Relatives and friends will be received at the Monastery on Friday, November 24, from 3:30 pm to the time of the Parastas Service at 7:00 pm. The Funeral Divine Liturgy will be celebrated by Metropolitan Archbishop William Skurla on Saturday, November 25 at 10:30 am. in the Monastery Chapel
Interment will follow in the Dormition Section of Mount Macrina Cemetery.
Donald R. Crawford Funeral Home in Hopwood is in charge of arrangements.
*  Due to the rise of COVID-19 and flu in the area, masks are suggested for those in attendance.