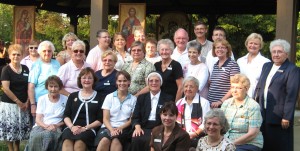 Membership in the Basilian Associate Program enables men and women to share in the life and the mission of the Sisters of the Order of St. Basil the Great.  Participants are Christian men and women over 21 years of age who come from across the country.  Members are called to join with, and to extend the prayer and ministry of the Sisters.  The commitment does not involve vows or community living.
The program enables Associates to share more completely in the life and mission of the Byzantine Catholic Church – in faith, prayer and ministry.
For further information, contact the Associates Directress at 814-449-9837 or dowload the  Associate Brochure.