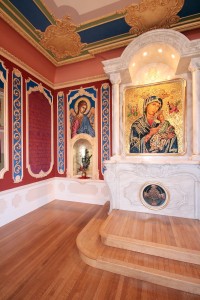 2020-2021 House of Prayer Virtual Programs
February 16, 23 & March 2, 9, 2021, 6:30-8:30 p.m.
Tuesday Evening Reading Series
"Crossing the Desert: Learning to Let Go, See Clearly, and Live Simply"
With Sr. Barbara Jean, OSBM Register by February 11
Offering: $5.00 per session or $15.00 for all 4 sessions
February 25 & March 4, 11, 18, 25, 9:30-11:30 a.m.
Lenten Bible Study Thursdays
With Sr. Melita Marie, OSBM Register by February 18, 2021
Offering: $5.00 per session or $20.00 for all 5 sessions.
March 6, 10:30-11:30 a.m.      
Saturday Morning Lenten Reflection
Remembering the Future: A Look Back at 2020
With Very Rev. John Petro
Offering: $10.00
Registration Due:  March 3
March 23, 6:30-7:30 p.m.
Tuesday Evening Reflection for Men and Women
Unemployment and Stress
With Ed Horvat
Offering: $10.00
Registration due: March 18
CALL TO REGISTER: 724-438-7149.
PLEASE PROVIDE YOUR EMAIL TO RECEIVE YOUR LINK AS THE PROGRAMS WILL BE CONDUCTED THROUGH ZOOM.
Please share this information with anyone who may be interested.