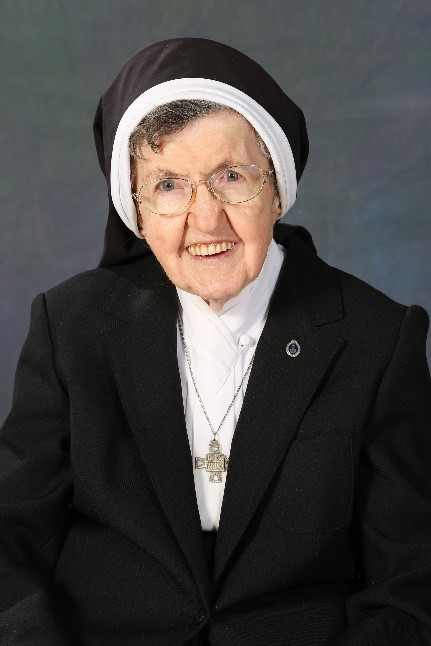 For Sister Mary Grace, Holy Week 2020 was to be the threshold of her entrance into the life for which she yearned. Her last words to Sister Ruth, Provincial, were "I want to go to heaven." In mid-afternoon of Holy Wednesday, April 8, 2020, she got her wish. She had received the Mystery of Holy Anointing earlier in that week, and so she was well prepared to meet Jesus to whom she had dedicated 63 years of her life.
Sister Mary Grace (Marion) was born in Dunmore, PA, the daughter of the late John and Mary Margaret (Lesko) Skuban. She entered the Sisters of St. Basil from St. Mary's Byzantine Catholic Church in Taylor, PA on October 1, 1957 and received her Final Profession of Vows on August 25, 1963 in the presence of the late Very Rev. Msgr. Basil Smochko.
As a Sister of St. Basil, Sister Mary Grace was called to a variety of ministries. Sister had been on the staff of Mt. Macrina Manor as an LPN in direct nursing care and later, in medical records. She had also served at the Byzantine Catholic Seminary, at Mt. Macrina House of Prayer, as Activities Director at St. Basil's Home and as a substitute teacher. At the monastery, she served for a number of years as monastery sacristan, as well as assisting with the health care of the Sisters and in clerical and other supportive services.
Her final years were spent as a resident at Mt. Macrina Manor. At the Manor, until Sister Mary Grace was no longer able to do so, she participated in the Divine Liturgy and other services planned for the residents' spiritual nourishment and refreshment. One cannot forget, either, her daily praying of the rosary. One of her requests was to have the rosary she prayed on with her on her final journey.
Sister enjoyed taking part in the activities offered at the Manor; she was a familiar figure at the sing-along on Sunday morning, and whenever there was Bingo, she was there, too. She was always quick to thank those who visited, accompanied by a smile and "God be with you!"
Following is a reflection Sister wrote upon completing a sabbatical program. "The Lord is my Shepherd . . . He takes care of me and my needs better than I can ever do myself. That He has such great love for me is really overwhelming! For this, I am most grateful. It gives meaning and purpose for my life's journey . . . It lets me know I am solidly grounded in His love." These thoughts, spoken from Sister's heart are the best way to portray her life! Now she lives even more fully in a heavenly sabbatical!
Sister Mary Grace was preceded in death by her parents and her three brothers, John (Eleanor), Andrew (Julie), and Joseph (Kay). She is the last surviving member of her immediate family.
The Divine Liturgy will be celebrated privately in the Monastery Chapel on Tuesday, April 14, by Rev. Jerome Botsko, Monastery Chaplain. There will be no public viewing.
Donald R. Crawford Funeral Home, Hopwood, is in charge of arrangements.