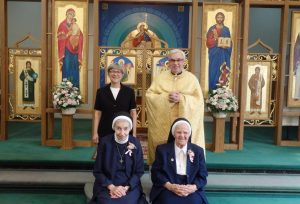 The Sisters of St. Basil the Great in Uniontown gather for community meetings and celebrations in July. As is customary during this time, the Sisters commemorated the Jubilarians during Community Week.  This year Sister Euphemia Kopa celebrated 75 years of religious life and Sister Margaret Kapusnak, 70 years.
The Jubilee Divine Liturgy was held Tuesday, July 20, at the monastery with Chaplain Rev. Jerome Botsko officiating.  The Sisters renewed their vows in a spirit of thanksgiving amidst the prayers of all the community. A celebratory dinner followed with a program of remarks and reminiscences.
Sister Euphemia Kopa entered religious life from Assumption of the Mother of God Byzantine Catholic Church in Weirton, West Virginia.  Sister first served at the newly established St. Basil Home for Aged Women for two years and then dedicated her teaching years to the youngest children, kindergarten through second grade. Sister Euphemia was also a principal, the Administrator of the former St. Basil's Home, and also served in the bishop's residence. Of late Sister has assisted in the monastery baking department and the medovniki project for the Pilgrimage as well as with hospitality.
Sister Margaret Kapusnak arrived from St. Mary Byzantine Catholic Church in Johnstown, Pennsylvania.  Sister served as a teacher in the elementary and high school level for several years and was also the editor of The Voice magazine and Novice Directress before she began ministry in the Passaic Office of Religious Education. Later, Sister served for six years in the General Administration of the Order in Rome. After her return she was elected Provincial Superior in Uniontown in 1990. Following her term in leadership, Sister taught English in Trebisov, Slovakia in the newly established high school of the Greek Catholic Eparchy.  From 1997 to 2001 she was the Development Director for the Province, and since then, Sister served as the Province Secretary at the monastery.
Sister Susan Sisko, Provincial Superior, acknowledged the faithful service of these Sisters for a combined 145 years, as well as their diversity of talents offered joyfully to the Lord.