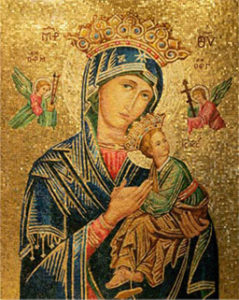 It is our prayer that you can join us virtually for the 86th Pilgrimage in honor of Our Lady of Perpetual Help on September 5 and 6.  You can do this by going to our YouTube channel at Basilians – Uniontown PA to view some services and programs that we have recorded for you. This channel will not be available until September 5. The direct link will be put on Facebook and at www.sistersofstbasil.org.
Due to the current COVID-19 conditions and in an effort to responsibly care for the safety of everyone, please note that we will not be permitting groups of any size to gather on the grounds of Mount St. Macrina over the Labor Day weekend.  Furthermore, the Religious Gift Shop and the Shrine will be closed.
No buildings and/or restrooms will be open for visitors since we do not have the means to assure proper and complete sanitizing.
Although we are disappointed that we cannot provide a welcoming hospitality, we are also mindful of our responsibility to foster the health and well being of all.
THANK YOU AND GOD BLESS YOU
FOR YOUR UNDERSTANDING AND COOPERATION!