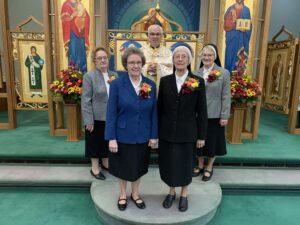 "Christ plays in ten thousand places, lovely in limbs, and lovely in eyes not his." This verse from a poem by Gerard Manly Hopkins is a celebration of God's presence in all things, stating how everything is a reflection of God's glory. It fittingly describes our quartet of Jubilarians. In their 60 years as Sisters of St. Basil, they have reflected God's presence to countless people whose lives intersected with theirs.
Our Jubilarians continue to reflect God's glory as consecrated women being a praying, healing, and life-giving presence wherever they are. Each one is active, enthusiastic, and committed to the ministry and the people she serves.
Father Jerome Botsko, Monastery Chaplain, conveyed this in his homily at the Thanksgiving Divine Liturgy for the Jubilarians. The Gospel reading of the Parable of the Sower in which the seed is the Word of God lent itself to a description of their lives. They represent the good soil in their faithfulness to their vocations. Over the span of their religious lives, they have produced abundant fruit for God's Kingdom. We congratulate them and give thanks to God for them. Their accomplishments are briefly described below.
Sister Margaret Ann Andrako's ministry journey has taken her to parish schools, to Religious Education in the Archeparchy and Passaic Eparchy, to organizational work in the Van Nuys (Phoenix) Eparchy, to director of the House of Prayer, as an administrative assistant at Byzantine Catholic Seminary and then at Central Catholic High School in Pittsburgh, Pa. For two different terms, in 1990 and in 2015, she was Assistant Provincial. In 2021, Sister Margaret Ann accepted a position in the Diocese of Erie as the administrative assistant for the Office of Religious and for St. Mark's Seminary where she currently serves.
Sister Sylvia Burnett's ministry likewise took her to parish schools, then to retreat work and spiritual direction at Mount St. Macrina, the Jesuit Retreat Center in Clinton, OH, and at Ecclesia Center in Girard, PA. She also worked on research, planning and development for the Community, served as motherhouse director, and Councilor and director of grounds and facilities.  Sister Sylvia continues to unravel the mysteries of broken marriages in her tribunal work for the Erie Diocese where she has served since 2007 as an auditor in the diocesan tribunal.
Sister Susan Harvey devoted 29 years in the parochial elementary schools around the Metropolia serving as teacher and principal. She taught at nearly every grade level from first through eighth. Following her years in the education apostolate, Sister Susan went on to serve in Pastoral Ministry and as assistant director for the Office of Religious Education for the Parma Eparchy. Returning to the education ministry, Sister Susan served on the staff of the newly organized school at St. Gabriel's Parish in Las Vegas, Nevada.  In 2014, Sister returned to the monastery, where she took on the position of Director of Associates while assisting with the Cemetery Ministry and the Card Shop, and various other ministries at the monastery.
Following her initial ministry as a teacher, Sister Barbara Jean Mihalchick moved on to retreat work and spiritual direction at the Retreat Center.  In 1989, Sister Barbara Jean was elected to the position of Vicar General in the General Administration of the Order in Rome, Italy. During this time, Sister traveled to all parts of the Order, but especially to Eastern Europe where Sisters were re-structuring public religious life and ministries. There Sister offered on-going formation sessions with the young professed Sisters. Sister Barbara Jean returned from Rome in 2001. Following a sabbatical year, she joined the House of Prayer staff at Mount St. Macrina where she currently serves as program director and Vocation Director for the Province. Presently, Sister is in her second term as a member of the Provincial Council.
One gift that is not listed above is the gift of listening. For a combined 240 years of religious life, each Sister has listened, empathized, sympathized or just was present as a "reflection of God's glory." That might just be the greatest gift they gave and keep giving to the world.
No Basilian celebration is complete without a special meal. At the festive dinner afterward, Sister Susan Sisko, Provincial, and all the Sisters offered their warm congratulations to the Jubilarians. May God grant them many more happy, blessed, and spiritually fruitful, years!