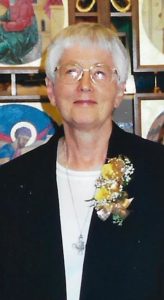 Very early in the morning of Monday, August 12, 2019, Sister Ann Fedyszak (formerly Sister Aloysius) completed her earthly life and awoke to the dawn of her new life in the heavenly Kingdom. Sister Ann had been a resident of Mt. Macrina Manor just days shy of seven years, and it was from there that Jesus called her to Himself. She had been fortified earlier in the week by the Holy Anointing, accompanied by the faithful presence of her sister, Sister Margaret, and by the prayers of her Sisters, Sister Ann waited patiently for the Lord to come calling.
Sister Ann was born in Warren, OH, the daughter of the late Elias and Anna (Volchko) Fedyszak. She entered the Sisters of St. Basil in Uniontown on September 15, 1954 from SS. Peter and Paul Byzantine Catholic Church in Warren, OH. Sister Ann made her Final Profession of Vows on August 21, 1960 in the presence of the late Very Rev. Msgr. John Gernat.
Sister Ann's life as a Sister of St. Basil spanned 65 years of dedicated service in a variety of ministries. For about 18 years, she served in the teaching apostolate. Sister Ann was then assigned to help establish the Office of Religious Education in Pittsburgh where she was noted for her significant contribution to the Catechetical Ministry. This ministry which was well-loved by Sister took a back seat when she was elected as Assistant Provincial for the community.
Retreat Ministry then engaged Sister's energy for seven years until she was called to part-time ministry in both the Archdiocesan Catechetical Office and Holy Ghost Parish in McKees Rocks, PA. This part-time ministry in McKees Rocks developed into full time Pastoral Ministry for ten years. At a time when physical disability would cause many to retire, Sister Ann's strong will stood her in good stead as she continued to give her all to her ministry.
In 2006, when it became apparent that she could no longer do so, Sister Ann returned to the monastery; however, continuing to serve in Pastoral Ministry at the Manor for another five years. Finally, as a resident at the Manor, Sister Ann was known for ministering to others. She was especially faithful in visiting community members when they were journeying toward eternity.
Sister Ann wanted to be remembered for her deep faith, and it was surely this which was the hallmark of her life. Though she could no longer be present with the community as they prayed Matins and Vespers, these liturgical service books were her faithful companions even up to her final days.
Sister Ann was preceded in death by her parents, her sister Mary (DeSantis) and her brother John. In addition to her Sisters in community, she is survived by her brother Joseph and her sister, Sister Margaret. Relatives and friends will be received at the Monastery Chapel on Sunday, August 18 from 3:30 pm to the time of the Parastas Service which will be sung at 7:00 pm. The Funeral Divine Liturgy will be celebrated by Archbishop William C. Skurla on Monday, August 19 at 10:30 am. Interment will follow in the Dormition Section of Mount Macrina Cemetery.
Donald R. Crawford Funeral Home in Hopwood, is in charge of arrangements.