This year as we celebrate the Year of Consecrated Life, we are also going celebrate the vocation stories of the Sisters of our community.
Our first story in this series is from Sr. Mary Grace Skuban, OSBM: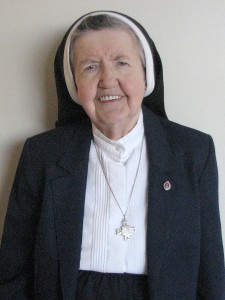 I first felt God's call in ninth grade. I knew of the Sisters' Academy for girls, but I also knew that it would be a burden on my family for me to leave.  I was sure I belonged there by the time I was 18, but not all of my family agreed. I was the only girl among three brothers, and my mother in particular did not favor her only daughter going away and "giving up" her life.  Somehow, each year when it would be time to seriously prepare to go to the convent, something came up in the family to hinder my going at that time.
In the meantime, I worked as a clerk in an office in Scranton, Pa. for a company that sold magazines.  I prayed patiently for the right time, attending adult religious education classes and eager to learn more about my faith.  My mother's friends were there also and they secretly encouraged me in my desire for religious life.
However, when I wrote to the Mother Superior in Uniontown, I received no response – or so I thought.  The letter welcoming me to the community mysteriously "disappeared," that is until I found a piece of the envelope that was not completely burned!  Then I understood.  I wrote again to the Sisters but this time I requested that my mail be sent to my work address.  The Sisters wrote me there, but when I explained the reason for using that address, they agreed with my Mom that I should stay with her.
On September 8, 1957, my home parish was celebrating its 50th anniversary and I was helping with the serving in the rectory. I was able to talk to Bishop Nicholas Elko and I asked him for the favor of speaking to Rev. Mother Olga on my behalf.  He did and on September 14 I received my letter to come. Though I had never traveled much, I left on the midnight bus from Scranton to Uniontown with three other women from the area also on their way to become Sisters of St. Basil.  Arriving at the Mount was my dream come true!  In a few months, when I formally received the habit, my parents with my brother and his fiancé came and affirmed me in my vocation. Thank God and His Holy Mother!
Before I left home I was again reminded of the help of the Mother of God in my journey.  The Sodality to which I belonged had a farewell dinner. They invited then-Father Michael Dudick, later Bishop Michael, pastor of our parish in Old Forge to speak.  He used the example of the Angel Gabriel coming to an unknown town of Nazareth and inviting Mary to become the mother of Jesus Christ.  He continued by saying, "Now Angel Gabriel has returned again to call another unknown Mary to "Come, Follow Me." This message that evening was and still is the stimulus that has greatly been my "treasure in my heart" for the past 54 years!  I prayed often to the Mother of God to lead me to this place where I could fully live for her Son.  She has been my helper and guide along the various roads I traveled.
After my initial formation, I did domestic work in our convents at several school missions where our Sisters taught.  Then I served at SS. Cyril and Methodius Seminary for three years. I happily worked in the kitchen and laundry and at the convent and enjoyed a wonderful community spirit with the Sisters, staff and seminarians.
Next, I was missioned as a catechist in Binghamton, N.Y. as a substitute teaching in the primary grades for a short time.  After serving as a nursing aide for the summer at our nursing home, Maria Manor in Ebensburg, Pa., I entered Sacred Heart Hospital School of Nursing and passed my State Board exam for my LPN license in January 1969.  I spent the next 20 years in nursing at both Maria Manor and Mt. Macrina Manor in Uniontown, where I also worked in medical records. Of all my ministries, this was my favorite. After that I had a sabbatical year and then was missioned between the House of Prayer and St. Basil's Home.
In 1998, I became the Sacristan in the Monastery Chapel at the Mount.  This is my current ministry and I enjoy it very much.  It is a joy to take care of the Lord's dwelling place throughout the year!
I thank the Holy Mother of God each day for being faithful to me and to my desire for a deeper life in her Son, Jesus.  She took my seven-year offering of patient waiting and perseverance and gave me a life so blessed and full!  Trust her yourself . . . come and see!