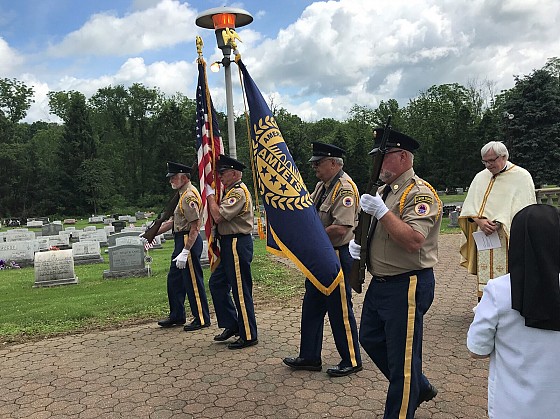 On Monday, May 30, 2022 at 10:30 am a Prayer Service will be celebrated by Reverend Jerome Botsko, the Chaplain to the Sisters of St. Basil at Mount St. Macrina Cemetery.  The prayer service according to the Byzantine Catholic Church is the Panachida service for the deceased.
The local AMVETS 103 will pay tribute by their attendance as honor guard, in procession, taps and military salute.
On that day we remember, and pray for all our loved ones buried in Mt. St. Macrina Cemetery.  We particularly remember and honor all those who have served our country most nobly in all branches of the military.  We will never forget their sacrifices and heroism, some to the point of giving their very lives.  Because of their bravery and love of country we remain free.
ETERNAL MEMORY AND PEACEFUL REPOSE!
Please Note: 
In the event of light drizzle, the Prayer Service will take place in the Mausoleum Chapel at 10:30 am.   
In the event of severe weather – heavy rain, thunderstorms, the Service will be canceled.