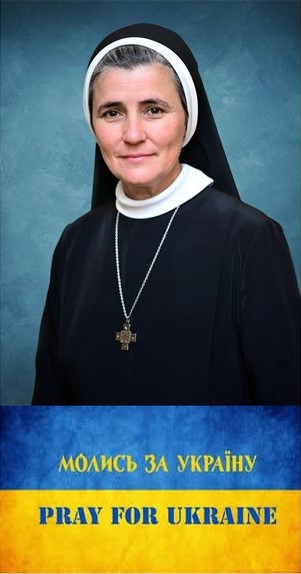 He who dwells in the shelter of the Most High will rest in the shadow of the Almighty. I will say of the LORD, "He is my refuge and my fortress, my God, in whom I trust." (Ps 91:1)
Dear Basilian Sisters in Ukraine,
Dear Ukrainian Nation,
I am sending you this letter on the sixth day of shocking and unjustified aggression of Russian Federation military forces against Ukraine and Ukrainians. You are facing this trial with great dignity.
On February 12 the entire Order prayed for peace in Ukraine and as we lifted our eyes to the hills we testified together that our "help comes from the Lord" (Ps 121, 2). The Basilian Sisters from around the world continuously turn their eyes to the one who is our refuge and shelter. Every day and every night together with many other men and women of prayer we are creating a prayer shield for those in danger.
Dear Basilian Sisters in Ukraine, I am so grateful that you continue to be prayerful, healing and life-giving presence of God in your country, in all the cities and villages where you live, pray and serve. Thank you for bringing hope, trust in God's providence, mercy and love to those who need it.
War, hatred and murder are obvious and bold-faced expressions of evil. Evil is a devastating force that destroys life, relationships and the soul. Dear Sisters, let us continue our prayers for peace. This is a time full of terror, blood, tears and cruelty but it is already clear how courage, love, mercy, truth, mutual aid and kindness are manifested as bright lights in the darkness….
Spiritual giants are born in the greatest of trials. Even at this time, the night of Gethsemane, and perhaps Golgotha, the Lord leads us to the resurrection. Therefore, dear Sisters, I entrust you with the care of the physical and spiritual life of all those who ask for help. Let us not allow fear, bitterness, hatred, which will try to block this light to win and destroy you.
In the time when we are about to begin the Great Lent I am finishing my letter by the lines that show what is our destination, the destination where Ukraine is headed. "Let God arise and let his enemies be scattered, and let those who hate him flee from before his face. Christ is risen from the dead, by death trampling death, and to those in the tombs granting life!"
United in prayer,
M. Marcela Runcan, OSBM
General Superior