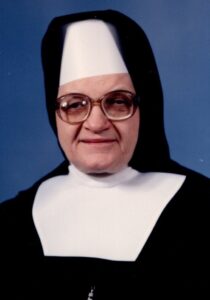 The oldest living member of the Sisters of St. Basil, Sister Mary Ann entered into eternity on Wednesday, January 5, 2022.  Her long journey of 78 years as a Sister of St. Basil ended as she stepped into new life.
Sister Mary Ann (Elizabeth) Vasilcheck was born in Struthers, Ohio, the daughter of John and Susan (Ondovcin) Vasilchek. She entered the Sisters of St. Basil in Uniontown on May 14, 1944 and made her Final Profession of Vows on April 4, 1954 in the presence of the late Rev. Fr. Bernardine Hvizdos, OFM.
Sister Mary Ann's years of ministry were largely spent as a home Sister in the various parish missions staffed by the Sisters. She also enjoyed teaching religion to younger children, and several years and many of her summers were taken up with this ministry. In addition, Sister served at the Bishop's Residence in Pittsburgh and at St. Basil's Home in Uniontown.
Following her service at St. Basil's Home, Sister Mary Ann retired to the monastery, where she assisted wherever she could. In addition, from 1997 until 2005, Sister Mary Ann was a faithful volunteer at Mt. Macrina Manor. As her health declined, the Manor then became her home for the remaining years of her life.
While she wanted to be remembered for her deep faith and love of prayer, the Sisters also remember Sister as an enthusiastic sports fan. Although she was from Ohio, her loyalty in sports was transferred to Pittsburgh, and many a prayer was sent for the Pittsburgh Pirates, Steelers or Penguins. When visiting her at the Manor, any mention of sports would cause her eyes to light up! Sister Mary Ann also enjoyed putting together jigsaw puzzles; as another hobby, she spent time re-purposing greeting cards into bookmarks. These found their way into the hands of her many friends and acquaintances.
Sister Mary Ann was the last surviving member of her immediate family. She was preceded in death by her parents, her sisters Mary, Helen, Susan, Delores, Ann, and Eileen, and brothers Michael, John and Edward. In addition to her members in community, she is survived by several devoted nieces and nephews.
The Parastas Service for Sister will be celebrated on Sunday, January 9 at 7:00 pm. The Funeral Divine Liturgy will be celebrated by Metropolitan Archbishop William Skurla on Monday, January 10 at 10:30 am. Interment will follow in the Dormition Section of Mount Macrina Cemetery. Donald R. Crawford Funeral Home in Hopwood is in charge of arrangements.
For the safety of all, masks are required for all those in attendance.