A Legend in Her Own Time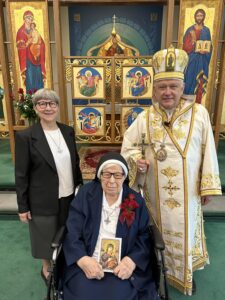 There is nothing like a Jubilee to bring Sisters together in joyful celebration. Sunday, May 21st was such a day, for on that day, the Sisters of St. Basil in Uniontown honored Sister Christopher Malcovsky on her Diamond Jubilee of Religious Life.
Like all major events of the Province, the celebration began with a Divine Liturgy of Thanksgiving. As is customary on this occasion and before receiving the Holy Eucharist, Sister Christopher renewed her vows. In this, she was joined by the entire community.
In his homily, Archbishop William remarked on the many levels of service and the many different roles that Sister carried out in her 75 years of service. Speaking to the time when he was Bishop of Phoenix, he noted that  faced with the enormous task of managing the apartment complex at St. Stephen's, Sister worked hard to get everything organized, and in so doing engaged others in the parish to help.
Her purpose went beyond practicalities of the buildings, and extended to spiritual counseling when needed. Sister's ministry in the Eparchy of Phoenix for nearly thirty years actually began in 1991, assisting in organizational work in what was then the Eparchy of Van Nuys.
Sister Christopher spent her beginning years as a Basilian in the teaching ministry.  Her abilities led to the assignment as Motherhouse Superior and then as Provincial Superior for two terms. In 1983, she was elected as General Superior, the highest position in the Order based in Rome. In this capacity, she touched the lives of many Sisters, particularly those still living under communism.  Even at this date, she is fondly remembered for her courage in visiting those groups of Sisters during her tenure.
After completing her term of office in Rome, Sister Christopher returned to ministry in the Phoenix Eparchy where her responsibilities were mainly in parish ministry at St. Stephen's. In addition, she also managed the 26 apartments for senior citizens on the parish campus. Besides engaging in direct ministry for the parish, Sister Christopher also organized and coordinated the Bishop's Appeal for the Eparchy, a task which she ably fulfilled over the course of her years in the West. She whole-heartedly dedicated her time, talents and energy to these many significant areas of service.
Though separated by miles, parishioners of St. Stephen Pro-Cathedral and the apartment residents still remember Sister Christopher for her prayerful and calming spirit as well as for her willingness to listen. For many of them, she is just a phone call away.
Because of health issues, Sister Christopher returned to the monastery at Mt. St. Macrina in 2018, assisting part time at the Religious Gift Shop or wherever needed. Presently, Sister Christopher is a resident at Mt. Macrina Manor where she previously offered her services as a volunteer.
At the festive dinner following the Liturgy, Provincial Sister Susan congratulated Sister Christopher and thanked her for her enthusiastic and faithful service. She then read a very special message from the Sisters in Romania who are celebrating their 75th Anniversary as a Province. Sister Christopher holds a special place in their hearts, since it was through her that the Basilian Sisters in Romania became a part of the Order. Truly, one can say that Sister Christopher has been blessed with many happy and spiritually fruitful years, and all of us are grateful to share in this blessing!