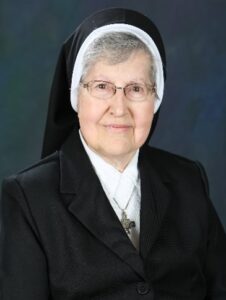 What joy to go from praying in the Chapel at the Manor to be welcomed into the embrace of the Lord. These last moments of Sister's earthly life were spent in God's presence, shortly to be followed by meeting Him face to face. Sister Leocadia was called home to the Lord on Wednesday, November 23, 2022. She had been a member of the Sisters of St. Basil the Great for 77 years. The daughter of the late Michael and Victoria (Backus) Sevachko, she entered the Sisters of St. Basil from St. Nicholas parish in Youngstown, OH on October 12, 1945 and made her Final Profession of Vows on August 28, 1953 in the presence of the late Bishop Daniel Ivancho. The first to enter the community, Sister Leocadia had the distinction of being one of three sisters in community; Sister Dorothy and Sister Bernarda.
Well prepared with a Bachelor of Science in Education degree from Carlow College in Pittsburgh, PA and a Master of Science in Education from LaSalle University in Philadelphia, PA. Sister was assigned to the teaching apostolate. She spent well over 57 years in elementary education. Her enthusiasm and her energy as a teacher informed all she did. God only knows the effect of her teaching and the special way she touched lives, and perhaps even changed them.
Sister Leocadia wanted to be remembered for her deep faith, her spirit of trust, and her love of teaching. All who knew here can testify that these qualities were an integral part of her life. Sister's assignments also included a number of years when she served as both teacher and
principal as well as in Catechetical Ministry during the summers. Following this long period of active ministry, Sister Leocadia returned to the Monastery, and when her health declined, the Manor became her new home. Here, she was blessed to enjoy the companionship of her sister, Sister Bernarda, whose visits were the highlight of her day. Both were enthusiastic sports fans, and they spent happy hours following the Cleveland sports teams and cheering them on.
In addition to her members in community, Sister Leocadia is survived by her sister, Sister Bernarda, several nieces, nephews, grand-nephew, grand-niece, and cousins. She was preceded in death by her parents, Sister Dorothy, her sister Marie, and brother Matthew.
Relatives and friends will be received at the Monastery on Sunday, November 27 from 3:30 pm to the time of the Parastas Service at 7:00 pm. The Funeral Divine Liturgy will be celebrated by Metropolitan Archbishop William Skurla on Monday, November 28 at 10:30 am. Interment will follow in the Dormition Section of Mount Macrina Cemetery. Donald R. Crawford Funeral Home in Hopwood is in charge of arrangements.
For the safety of all, masks are required for all those in attendance.