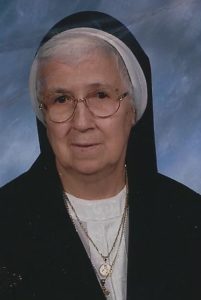 Swiftly and unexpectedly, Sister Martha Elizabeth Moyta (formerly Sister Jerome) was taken to her heavenly home in the early evening of Monday, March 11, 2019. She had just attended the Liturgy of Presanctified Gifts but did not show up for supper. Someone went to check on her, and it was evident that the Lord called her to Himself. How blessed for her to appear at the heavenly gates fortified by the Eucharist and the Holy Anointing!
Sister Martha was born in Pittsburgh, PA, the only daughter of the late John and Elizabeth (Tirpak) Moyta. She entered the Sisters of St. Basil in Uniontown on August 1, 1945 from Holy Ghost Byzantine Catholic Church on Pittsburgh's Northside. Sister Martha made her Final Profession of Vows on August 28, 1953 in the presence of the late Bishop Daniel Ivancho.
With her 26 years of teaching experience, she became a member of the organizing team for the Religious Education Office in the Pittsburgh Archeparchy. In this capacity, Sister Martha was a contributor to the God With Us Series for the Eastern Christian Formation program. Both working on the Series and giving workshops were part of Sister Martha's expertise. After serving in the Pittsburgh Archeparchy, Sister Martha then took these same talents to the Eparchy of Parma where she served for six years before moving into Pastoral Ministry at St. Therese Church in St. Petersburg, FL. Following 17 years of ministry there, Sister Martha returned to the monastery where she was fondly referred to as "Mother Martha."
Even though her years of active ministry ended, Sister Martha was always ready to help in any way she could, and in this, she was a true Martha. Visitors to the Gift Shop where she helped part time could be sure of a warm welcome from her.  Probably her best-loved ministry was to prepare and coordinate lodging on the grounds for the Annual Pilgrimage. For her this was a labor of love and a way to honor Our Mother of Perpetual Help by graciously welcoming the pilgrims. Adding a touch of beauty to the simple accommodations was her hallmark, both there and in the monastery. In hearing about her passing, one of the Sisters noted, "heaven will now be decorated, cleaned and rearranged."
Sister Martha was preceded in death by her parents and her brothers Nicholas, John, Edward and Daniel. In addition to her Sisters in community, she is survived by her devoted nieces and nephews and their families. Relatives and friends will be received at the Monastery Chapel on Friday, March 15 from 3:30 pm to the time of the Parastas Service which will be sung at 7:00 pm. The Funeral Divine Liturgy will be celebrated by Archbishop William C. Skurla on Saturday, March 16 at 10:30 am. Interment will follow in the Dormition Section of Mount Macrina Cemetery.
Donald R. Crawford Funeral Home. Hopwood, is in charge of arrangements.