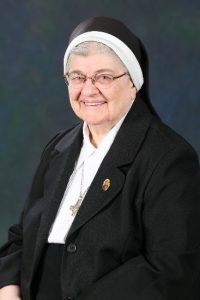 In recent years, when Sister Salome was asked what she was doing in her retirement, she would reply, "Waiting for the Lord." This time of waiting ended in the evening of Wednesday, September 29th when the Lord came to take Sister to her heavenly home.
Sister Salome (Helen) Yanochko was born in Freeland, PA, the daughter of  Andrew and Mary (Sakosky) Yanochko. She entered the Sisters of St. Basil in Uniontown on September 15, 1950 from St. Mary's Church in Freeland, PA and made her Final Profession of Vows on January 1, 1956 in the presence of the late Very Rev. George Bonchonsky.
From 1953, when she was first assigned to teach, Sister Salome had been busy shaping the lives of first and second graders. She loved teaching, and she spent 59 years in this ministry, 24 of these at St. Mary's School in Cleveland, OH. Sister brought to her classroom the gift of her gentle ways and her enthusiasm for any advances in methodology. She took great delight in learning and using whatever technology was available to help those entrusted to her care.
During the summers, Sister's artistic talent came to the fore when she spent hours faithfully decorating the large "medovniki" hearts which were so much a part of the annual pilgrimage. Each year she varied the decorations, always adding her significant touch of beauty to them. Probably her favorite pilgrimage ministry was at the ice cream stand; there she enjoyed greeting the pilgrims from the side window with a smile.
After retiring from the teaching ministry, Sister Salome returned to the Monastery. Almost immediately, looking to be helpful, she assisted the sacristan in several ways. There are also many small "duties" in a monastery, and Sister Salome took care of some of these in her quiet and unassuming manner. Among these was her careful tending to the peace plants that can be found in the foyer or corridor. We know they will miss her touch. No less will her absence be felt in her lively conversation at table, in her subtle sense of humor and in her smiles. In all, the hallmark of her work and presence was her cheerful disposition.
Sister Salome wanted to be remembered for her deep faith and prayer, and her Sisters in community can attest to this. It was a rare occasion for Sister Salome's place to be empty in the chapel. As for being remembered for her love of teaching, her many students over the course of her career can surely attest to this.
Sister Salome was preceded in death by her parents, her brothers John, Michael and Nicholas Yanochko and her sister Mary Kusmider. In addition to her Sisters in community, she is survived by her brother Andrew and her sisters Anna Yanochko and Irene Larkin.  Relatives and friends will be received at the Monastery on Friday, October 1, from 3:30 pm to the time of the Parastas Service which will be sung at 7:00 pm. The Funeral Divine Liturgy will be celebrated on Saturday, October 2 at 10:30 am at the Monastery. Interment will follow in the Dormition Section of Mount Macrina Cemetery.
Donald R. Crawford Funeral Home. Hopwood, is in charge of arrangements.