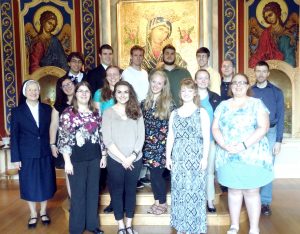 The Young Adult Virtual Weekend Retreat, Authentic Discipleship: Responding to Christ's Call in the Post-Modern World, will be held June 26-28, 2020. The retreat is sponsored by the Sisters of St. Basil the Great and Mount St. Macrina House of Prayer.
The retreat is open to all Christian men and women, single or married, ages 18-35.
Those who register will meet by via the internet. Download the Updated Schedule.
Please register by June 25 and receive the link to participate. You may register by email: hpmsm@verizon.net or via the mail: House of Prayer, 510 W. Main Street, Uniontown, PA 15401. Your $50 donation supports the House of Prayer.
If you have questions or need additional information, please call 724-438-7149.