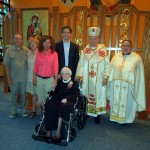 The Basilian Community gathered with Sister Vitalia Tomcho, OSBM, recently to commemorate her 103rd birthday.  His Eminence, Archbishop William arrived to
celebrate the occasion with Divine Liturgy at Mount Macrina Manor. Chaplain
Father Michael Huszti concelebrated. Family members from Ohio and Texas joined in the festivities.
All gathered after the Liturgy for a special dinner in
Sister Vitalia's honor.
Sister Seraphim Olsafsky, OSBM, Provincial Superior, thanked
Sister Vitalia for her long years of dedicated service and her life of
prayer.  Sister commemorated 80 years as a Sister of St. Basil last year, the first member of Our Lady of Perpetual Help Province to reach this milestone.